TAPEd Conversation: Cobblestone Jazz / Mathew Jonson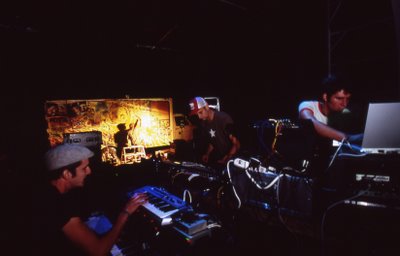 Mathew Jonson
, to you at least, should require no introduction from me. Having pushed the boundaries of techno, both inwardly and outwardly, with his jaw-dropping releases in the last two years on labels like M-nus, Wagon Repair, Perlon and Itiswhatitis, 2006 has been another vintage for the Canadian legend - if you havent checked his 'Automatic'/'Beach Party' 12" as yet, shit's insane, you absolutely must. Still, Jonson's real peaks this year have come with his role in
Cobblestone Jazz
- a joint project with fellow Vancouverians
Tyger Dhula
and
Danuel Tate
. Cobblestone produced one of the summer's most devastating dancefloor tracks - the the formidable and aptly named 'Dump Truck', before following it right up with the recent 'India in Me' - a snake-charming, sensuous club monster that is instantly memorable and dangerously effective. In short, Cobblestone Jazz are shithot, and I was lucky enough to get an opportunity to ask Mathew some geeky questions about who they are and what they do....
It's TAPE's round. What are you drinking?
Guinness thanks.
Who and what is Cobblestone Jazz?
Cobblestone Jazz was formed by Danuel Tate and its members are myself, Danuel and Tyger Dhula. We focus largely on live performance and improvising at our shows. In the studio it's much like on stage - improvisation to compose rather than sequencing everything. Danuel is mainly focused around the Rhodes piano and vocoder while Tyger works mostly percussion and atmospherics while helping program patches for Dan, and I do mostly basslines, simple drum programming, as well as mixing most of our stuff in the studio. In our live shows, me and Tyger have similar roles while Danuel focuses on keys.
Is there a precise reason for your name?

Our name was invented by a friend. Many different rocks in cobblestone symbolizing different facets to our music styles and personalities. It made sense.
"If I wasn't making electronic music, I would probably still be married..."
What would you be doing if you weren't making electronic music?
I would probably still be married, snowboarding more and spending a lot of time at the beach. As for a job, I think I would go back to being a lifeguard on some remote island in the Mediterranean or South America. I'm sure I would have more time to get back into playing drums and piano again too. Might be nice.
OK, one of our readers wanted me to ask you about math, on account of your music making her think of fractions multiplying. Does math, be it in the practical or in the abstract, romantic sense, influence your music? Or do you fucking hate it and never think of it at all…?
Math is very much a part of all music for me. The use of polyrhythms for example is almost an exact definition of what your reader described it as - different instruments playing in different time signatures at the same time creating long phrases in music that repeat at certain points in the phrase. 4/4 over 6/8 for example at the same tempo. On the other side of that conversation is the idea of fractals as a musical term where frequency, phase and rhythm is changing in an infinite equation. The use of outboard analogue equipment makes this easy as no two bars are ever the same, as modulation of frequency and effect does not revolve in a loop as with much of the computer music composed today.
How would you say you approach music-making as Cobblestone Jazz, as opposed to as Mathew Jonson? I mean conceptually, rather than practically…

When Cobblestone Jazz and Modern Deep Left Quartet started playing together it was all about improvisation much like playing Jazz. Dan with Rhodes and vocoder, Tyger with MPC60 and TR707, the Mole a turntable and myself with SH-101, TR-909 and TR-606. Our instruments gave us the boundaries we needed to stay out of each other's way, while at the same time the range of each instrument allowed the band to achieve a full sound. These days we tend to do a lot of switching roles in the studio but the live shows are much the same with the addition of computers. This way we can have some bed material written previously to ensure a good show without the lulls of always trying to make something new.
In making music on my own there is no real concept at all. I've always used music as a tool similar to meditation and self-reflection. It has been more for myself but recently the dancefloor as well…
You, Mathew, have probably THE most misspelled name in the history of electronic music. Does that piss you off?
No. It did in school but now I'm so used to it that it really doesn't bother me anymore. Funny thing is that my great grandparents actually changed their name to Jonson from Wiaroa. I guess with one hard-to-spell last name my parents thought they would play a bit of a trick on me by spelling my first name like it is too.
Do you personally have a jazz background of any kind?

I played drums in jazz bands when I was young, and now I just like to listen to it for the most part. But yes, I do have formal jazz training, if that's what you mean. It makes playing with Danuel really fun as we can talk back and forth while we play on stage. Me on 101 and him on Rhodes or vocoder. When it comes to jazz though, Dan is the real master. He really blows my mind with how talented he is - and his real forte is playing keys, whereas mine is more electronic-based as of present.
What's the best thing about Canada? Ever tempted to move to Europe?
For me, it's really all about the nature here. In Vancouver you can go from the beach to the base of 3 different ski hills in 20 minutes. I'm looking to have an apartment in Europe in the new year, I hope. So many transatlantic flights are really starting to kill me. I will probably keep my place here in Vancouver for a while though too, as my band and family are here and I have a really nice studio in the loft I live in.
Why the flatcap? Why do you prefer 'em to, say, baseball caps…
I was given this cap by my friend Zeke at the Soundwave Festival on Vancouver Island and it seems that it is impossible to loose. It just keeps on coming back. The others, like many wallets, cameras and phones have disappeared into to abyss of afterhour land...
"I was given this cap by my friend Zeke...It just keeps on coming back"What was it like to play Montreux jazz festival? Do you feel like you fit into a long history or lineage of jazz? Would Miles have approved?
It was a real honor to play at such an important event. We play a lot of jazz festivals in Canada but Montreux is a whole new ball game. As for Miles, well, it's his house so I hope we gave him the respect he deserves.
Do you feel more of a player than a producer when you record with Cobblestone Jazz? Is that a liberating feeling?
Yes, I think its because much of the time Dan and I play at the same time to get where we are going. Rather than when I produce on my own, where I play live keys to sequence a lot of the instruments but it's just not the same. All music is liberating for me.
How does collaborating with Tyger and Danuel differ from, say, collaborating with Luciano?

Luciano and Tyger Dhula are more programmers than, lets say, Danuel and I - working with computer sequencers etc. It makes for a good match in the studio to have both programmers and musicians because it's a different kind of work. Both collaborations are equally fun - and in the studio the menu is usually the same too.
How did Cobblestone Jazz come into being?
Danuel and Tyger had played together for a long time when we met as "Dante and Dhula". The Mole was also involved in the first group we had together under the name The Modern Deep Left Quartet. When we split up as a result of the 3 of them moving to Montreal and only Dan and Tyger returning (after a robbery that left them without a studio to work in), Cobblestone Jazz was formed. I wish in a lot of ways that we still had the Mole with us. Vancouver and Montreal are not so close, so it's hard to work consistently on the original project.
Was it performing live that made you turn to using more outboard equipment and hardware in the studio, or was that always how you approached production anyway?
I started with really simple outboard synths and sequencers in 1986 and then moved gradually to computers for sequencing in the early 90s. It wasn't until '96 or '97, I think, that I got really heavy into analogue equipment, as it took the influence of being close to people in the electronic scene to expose me to this gear. I didn't really know about raves or nightclubs until that time so I was much on my own. Now that I'm playing live more often, the outboard gear really makes a huge difference. Unfortunately, not all promoters can find what I need so sometimes I just rely on the drum machines and gear I can fit in my carry-on.
How do you handle the dialogue between digital and analogue tools?
I like the way that the two sit with each other in the mix. Layering the two kinds of sounds together makes for a lot of depth. Myself, I stick to analogue for bass and warm pads, while I use digital sounds to layer in between for texture.
Cobblestone Jazz improvise and record live, right? How live is live? How improvised can electronic music be?
If I can paint a picture for you, think of myself and Danuel playing keys and changing parameters on our gear at the same time while myself and Tyger are mixing and programming drums on the fly. That's generally how it goes. Sometimes we're programming in the headphones and cueing the drums and synths like you would a record if you were a DJ. All our mixes, and also my own solo tracks, are mixed from the desk straight to stereo tape. 90% is only edited at the start and end time. All the arrangement is done on the fly as the mix goes by - so we get a feel that sounds more like a band than something thought carefully about over time while sitting at the computer. Our mixes may not be as well produced sonically as other producers' - we sacrifice that for the idea of giving the music more of a soul than a brain.
What's your favorite club in the world, be it to party at or perform at?
I dont really have one right now but I certainly like clubs like Fabric, Cocoon, Spacelab Yellow, Underground, Goa, Lux, Weetamix etc.
"Fuck the records - if my shit's burning I would be running for my System 100m, SH-101 and my 808 as well as every hard drive I could stick down my shorts"

Your house is burning down (God forbid) and you have time/opportunity to rescue only three records. What would they be?
Fuck the records if my shit's burning I would be running for my System 100m, SH-101 and my 808 as well as every hard drive i could stick down my shorts.
One of our readers, Serginho, tells us that he once sat next to you on a bus, riding home from Sonar Night four years ago, not long after you'd put out 'Alpine Rocket'. Apparently you had a little chat, and you told him that you were on your way to an afterparty, if you could find it. Serginho would like to know: Did you ever find that afterparty?
Yes. I was going to see Ricardo, Sven and Richie at La Terrazza and I found it. Good times!
Any interesting future plans for Cobblestone Jazz?
We have plans in the new year to write an album for Wagon Repair. And I'm not positive yet but I think on December 16th we will be playing at Fabric. Should be nice!!
I hear Wagon Repair have just got their own studio. Are you using it much? How's that working out for you?
We have two, actually. One upstairs in my loft and the other at Open Studios, which Jesse (Loose Change) runs. I don't get in there as much as I would like with all this touring but I do have some time coming up. I really have the itch to write some new material. It's been too long.
You'll die happy when….

I know that my friends and family will be taken care of.
What are you trying to do with your music?
Express myself, make myself and others happy, and talk to the heavens with my feet firmly on the ground.
My heartfelt thanks for taking the time and consideration to give these answers, and my apologies for my somewhat repetitive line of questioning.'India in Me' and 'Dump Truck' are both on Wagon Repair and available in all good record stores, and some shit ones, right now. An edited version of this interview will appear in FACT magazine very soon.
P.S. I'm going to be having another TAPEd conversation (oh the puns, the puns) next week, this time with Kompakt maestro Michael Mayer. In addition to any comments you might have on the Cobblestone Q&A, if there's anything you'd like me to ask Herr Mayer, leave a comment in the usual way. Cheers.