Wanking pun ahoy!
I'm guessing that all you clued up nu-disco heads have already played Padded Cell's 'Signal Failure' to death by now, but less of you will have realised that the main bulk of the song has actually been ripped straight from Rinder & Lewis' 'Willie And The Hand Jive'. I've been going through a bit of a Rinder & Lewis phase at the moment after being awakened by the divine Seven Deadly Sins LP that was repressed a month or so ago. Apart from having one of the best record sleeves I've ever seen (see above) that will cause beard envy to any self respecting male at a hundred paces, it's a seminal (I really hate to use the word, but it really does apply in this case) italo record that won favours in both the Detroit and Chicago scenes due to its proto-techno nature in places. Puffin Jack's currently hoarding my LP, so I can't post any tracks at the moment, but here's a new

Todd Terje

mix of 'Willie..', the original of which you can find on R & L's 'Warriors' LP that harks from back in 1980.

Download:

Rinder & Lewis - Willie and the Hand Jive (Todd Terje Re-Kutt) // White
Speaking of fantastic rip-offs, Anja Schneider collaborator

Sebo K

pretty much took their 'Rancho Relaxo' and gave it a bit of bounce for February offering, 'Horizons'. Then again, is it really a rip off when you did the original? I'll settle for lazy, but I'm not complaining when the results are this satisfying. We'll definitely be seeing a lot more from Schneider's alarmingly consistent Mobilee label in the next few years, and I for one can't wait to see how their sound is going to develop.

Download:

Sebo K – Horizons // Mobilee
If you haven't picked up the latest Slices DVD yet, then I'd advise you do so as it's probably the best one they've done so far. A long stretch from the 'Making Of A DVD' feature that we su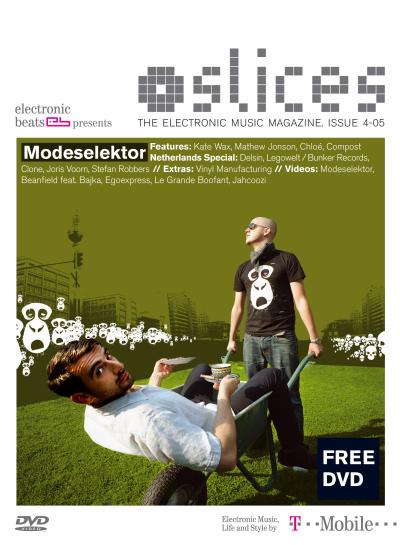 bjected poor Mr Waites earlier this month, it's got great features on Joakim, Uffie, Luke Solomon, Ed Banger and

Crosstown Rebels

alongside great videos from Noze, Pier Bucci, and Motor. One piece to avoid, however, is the DJ Hell feature where he talks from start to finish about his love for Bayern Munich in the most boring way imaginable. After 5 minutes I seriously considered putting the 'Making Of A DVD' video on again for a bit of respite! Seriously though, the Crosstown documentary is worth watching for its soundtrack alone, with Pier Bucci's 'Towers' and Mathew Jonson's mix of Hiem featuring heavily. Another track that's on there is the forthcoming Caro & Garcia track that'll have you're ears floating away to heaven with its delicate plink plonk/chordal synth combo. I haven't heard the remixes yet, but with

Jennifer Cardini

and

Mathew Jonson

tidying up the package, I'd hedge my bets and say that at least one of them will better the already sublime original. Essential stuff.

Download:

Mlle Caro & Frank Garcia – Far Away // Crosstown Rebels
And don't you worry, Mr Styles! It's got that annoying 'for promotional use only' voice over the top so I'm sure all our lovely readers will put their hands in their pockets to nourish Rebels' bank balanceto make up for the tragically poor sales of

Pier

Bucci

's fantastic 'Familia' LP. I feel sorry for Crosstown that 'Familia' didn't sell too well, but perhaps one of the reasons why it didn't was the lack of a full vinyl release, and also due to the fact that the only format available was pretty unappetising...You've got the CD in promo-style card case which I'm sure turned a few people off, and then you've got the supplementary one sided 12" of 'L'Nuit' that was bound to totally mess with the profit margins and sorta piss in the DJs' faces when they were expecting a nice double LP. When you're already wasting one slab of wax, couldn't you just hike the price by a few quid and whack another vinyl in a gatefold sleeve to host the lovely artwork [Soft: It doesn't quite work like that, Carnage...]? Anyway, rant over. I still love the Rebels, but they need to get their arses in gear and press that LP quick sharp!


Phew! I derailed myself a bit there, but before I started to lambaste one of my favourite labels, I was banging on about just how on the money

Mathew Jonson

is with pretty much everything he touches at the moment. The new

Cobblestone Jazz

release is their best so far, and I urge you to seek it out, even if you weren't really a fan of the previous ones. I'm not going to post 'Dump Truck' as Wagon Repair have got a bit pissy with us before, but seek it out on p2p to check it out... before buying the vinyl of course! Anyway, here's Jonson's lost remix of Moby's 'Slipping Away' from a few months back. Young Mathew lost out to Tiga and Axwell in getting on the 12", which was a bit of a silly choice if you ask me. Sure, their mixes may sell more records (and both be steaming piles of aural crap), but is that what remixing is all about - just some conceited way of making as many people as possible buy the 12"? In the greedy world of EMI, that'll be a yes, but it's us as listeners that lose out. So here we are, yet again, posting up some fantastic mix that didn't make the 12. Can you majors please listen up and put the best mixes on the wax? After all, the vinyl is for the bloody DJs! Anyway, if you've heard Matty J before then you'll know the score: bassy, atmospheric techno-funk that'll do some serious damage on more discerning dancefloors. You'll wish for a dub, but it ain't gonna happen so just make do!

Download:

Moby – Slipping Away (Focus People That Slip Remix by Mathew Jonson) // Mute
I've finally got the internet back on my home computer, so expect a higher frequency of postings from me over the next few weeks along with lots of juicy nuggets to get your teeth into - that's if I'm not wasting my life strugging to set up my new

Myspace

account. In other news, Mr Soft's brain has finally recovered from the pummelling that it received at Sonar and he'll be back from his extended hiatus tomorrow with a round up of a few select new releases.